On the 18th February 2011 we decided to remove some of the silver fish in the Lake. This was done by a team of professional French piscicultures ( fish farmers ) along with Myself and Lee.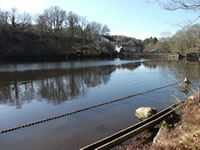 A net was placed at the bottom section of the lake and the slow process of dragging it together started. The water level had to be dropped by over a meter and a half for us to be able to get in and do this. It took 10 men and 1 boat and a total of just over 8 hours to do it. Eventually the moment of truth is approaching! Have we just spent over 4 and a half hours pulling a net for a handful of roach? One snag, one rock could lift the net and we could lose everything even if it is only a dozen silver fish!!!

We needn't have worried. It was a great success . We netted out a total of 2682 Kilos of silver fish and not one carp amongst them !!! It could not have gone better. Once we had transferred the fish from the pen to the scales and on to the lorry we could finally relax. It was a great Day.