Surrounded by luscious oak and pine forests, Chateau Moulin is a well-stocked carp fishing lake with 18 swims. A maximum of 10 carp anglers can fish the lake, which gives you options to move around a little. All this, combined with the fantastic service that the owners provide, will make your carp fishing vacation a great one with a fantastic atmosphere and some great fishing. We invite you to come and experience the thrill of fishing this beautiful, unspoiled haven for carp.
The Lake
Chateau Moulin is 42 acres in size and is surrounded by amazing forests near lomoges in the Limousin region of France. The surroundings are amazing and it's not hard to see why the movie Lord of the Rings has been shot here. Established in the 11th century by monks, Chateau Moulin is now a well established, fully mature carp fishing lake, featuring overhanging trees, reed lined margins and large beds of lilies, all helping to support a whole host of insect life in this environment. Further up the food chain there is a large number of original carp (both common and mirror).
Three natural streams feed the lake, which provide plenty of oxygen, even during the hottest summer months.
The large, secure parking area just 15 yards from the lake provides plenty of parking space, and access all the way around the lake makes life that much easier for everyone. The owners are more than happy to help you bring your tackle to your swim.
The bottom consists of silt with some sandy and stony patches. On average the lake is about 7-9 feet deep. The deepest area, which lies at the clubhouse, is around 12-14 feet deep.
The Swims
A graveled path connects the 18 swims around its perimeter. A maximum of 10 anglers can fish the lake simultaneously. This means that every angler has about 4.2 acres at his disposal which is a tremendous amount of water if you compare it to some other French fishing lakes.
The graveled swims are clean and they don't get muddy. Most of the swims are single swims, but for those who want to fish together, there are some larger double swims. Some swims are accessible by car, others aren't. If you wish so, a member of the team (Steve or Brian) will help you to pack your things and boat them to the swim you have chosen.
Please note:
At Chateau Moulin it's not possible to pre book a swim. When you arrive, you take a walk around the lake with the bailiff and you can pick your swim. Basically the fish are everywhere and there is no swim that consistently performs better than any other. The fact that you can't pre-book a swim has never been a problem as there are 18 swims for only 10 anglers (which increases to 12 anglers in July, August & September). During your stay you can move around a little if you wish to.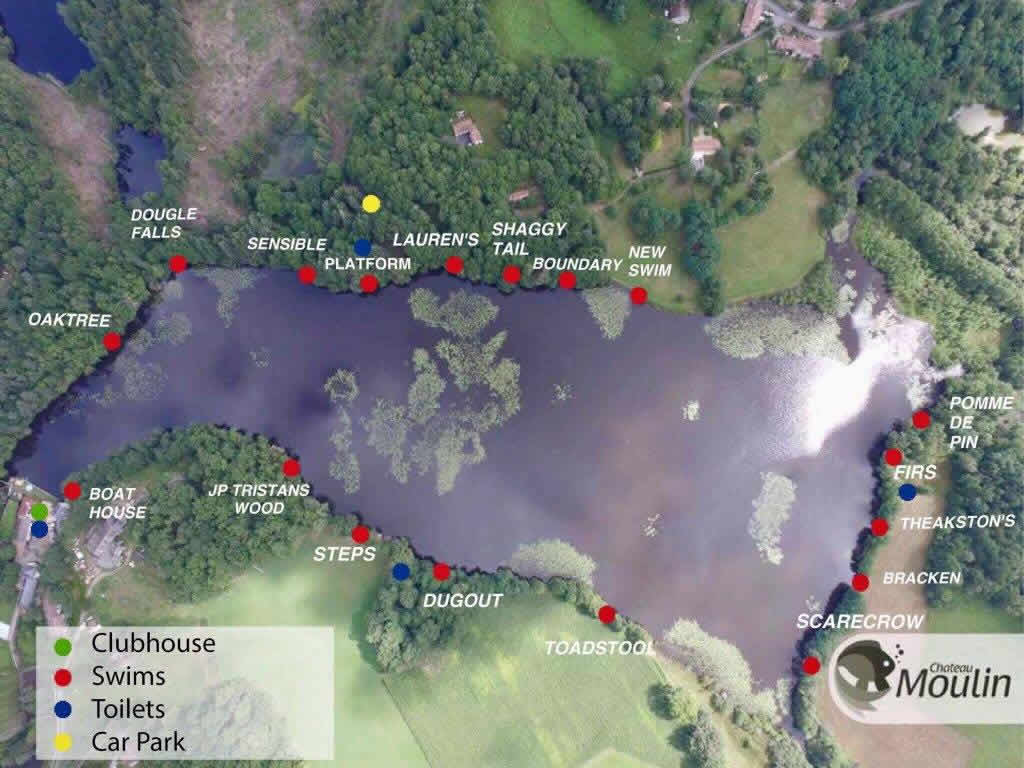 View Videos of Swims

Boat House Steps Toadstool Theakston The Firs Boundary Shaggy Tail Sensible Pomme de Pin Oak Tree Laurens Dougle Fall Bracken Dug Out Scarecrow Platform New Swim J.P. Tristant Wood