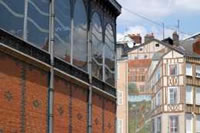 Limoges, capital of the fine arts, benefits from a renowned quality of life due to its numerous well maintained parks and gardens; in fact Limoges holds the French record for the amount of parkland per inhabitant (50m2). The Aurence, Auzette or Vienne valleys are superb green corridors. Using the markers on the banks of the Vienne, walkers can discover the charms of the town and its historic quarters. Nature is easy to get to with around 40 marked trails situated less than 10km from Limoges. For those who like their sport, you play golf at Saint Lazaire or Panazol whilst those in search of something a littrle more adventurous can take the forest adventure trail 'Tarz'en arbre' (Tarz'in tree) in Uzurat. Both adults and children can dream at Féériland (Fairyland) in Veyrac or can enjoy a family outing at Parc Bellevue in Limoges. Their are water parks at Palais-sur-Vienne and Naveix port, whilst canoe and kayak enthusiasts are catered for on the River Vienne.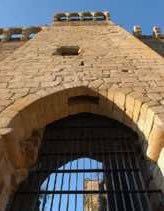 A rich historical heritage:

In Solignac, the imposing abbey church, unique in Limousin, is remarkable for its cupolas and rich decoration. A few kilometres from the town, installed in a 17th century manor, the Borie European Meeting Centre is wholly dedicated to music. The imposing Châlucet fortress, built in the 13th century, dominates the Briance valley and bears witness to the strength of military architecture in Middle Ages Limousin.

In summer, guided visits, plays, traditional events and archaeological digs make the site live again.

A quality cultural programme:

Chaptelat: the Catalacum festival (beg. July), Condat-sur-Vienne: the Harmonicales, harmonica festival (end October), Feytiat: the International Pastel Salon (in summer, courses and exhibitions). Saint-Just-le-Martel: approx. ten kilometres from Limoges, the International Festival of Caricature, Press Drawing and Humour has taken place for more than 20 years (end September), celebrities indispensable for the good moral health of a country; Wolinski, Plantu, Cabu, Wiaz and other caricaturists take part.

Art that's alive and kicking:

Thanks to the porcelain maker's prowess, artist/designers dare combining porcelain with different materials: glass, crystal, wood and using it in unexpected domains. Medard de Noblat at Boisseuil has recently created a permanent exhibition 'Porcelain Spirit' that interprets this artistic and technical genius.